Counterfeiting has been a sticking issue in both the e-commerce and traditional retail industries. When vendors sell or promote sub-standard or misleading products, they put their reputation on the line and expose their customers to all sorts of dangers. Countless complaints show that scores of consumers have been harmed by counterfeit cosmetics, poor-quality toys, inadequately constructed shoes, and similar purchases.
Modern consumers have high expectations and demand authenticity, uncompromised quality, and a seamless shopping experience. Now more than ever, creators and brands must watch out for cracks that could negatively impact consumers and translate to costly or permanent business damage.
Snapshot: Scope of Counterfeiting & Fraudulent Activity in eCommerce
The Amazon Counterfeit Crimes Unit sued or referred for investigation of more than 1,300 criminals (around the world) for counterfeiting and fraudulent activity.

A joint study by the European Union Intellectual Property Office (EUIPO) and the Organization for Economic Co-operation and Development (OECD) found that more than half of counterfeit goods entered the EU market were sold online.

China (along with its trading partner and transit point Hong Kong) is the leading producer and distributor of counterfeit goods in the world, according to the same OECD-EUIPO study.

The Intellectual Property Roadmap 2020 report by the International Chamber of Commerce declared that the COVID-19 pandemic created the most substantial negative supply chain security effect in history.

In its latest Brand Protection Report published April 2023, Amazon stopped over 6 million attempts to create new selling accounts in 2020, compared to 2.5 million in 2021, and 800,000 in 2022.

Counterfeit goods are not just a temporary challenge but a major industry problem that has grown from $30B value in the 1980s to over $3 trillion (projected) in 2023.

In August 2022, the U.S. Customs and Border Protection (CBP) agency made nearly 17,000 counterfeit product seizures worth about $2.4 billion.
Counterfeiting problems are evident across the entire eCommerce but are more prevalent in niche industries such as music and DVD movies, luxury handbags and apparel, jewelry, running shoes, and Rolex Watches, among others.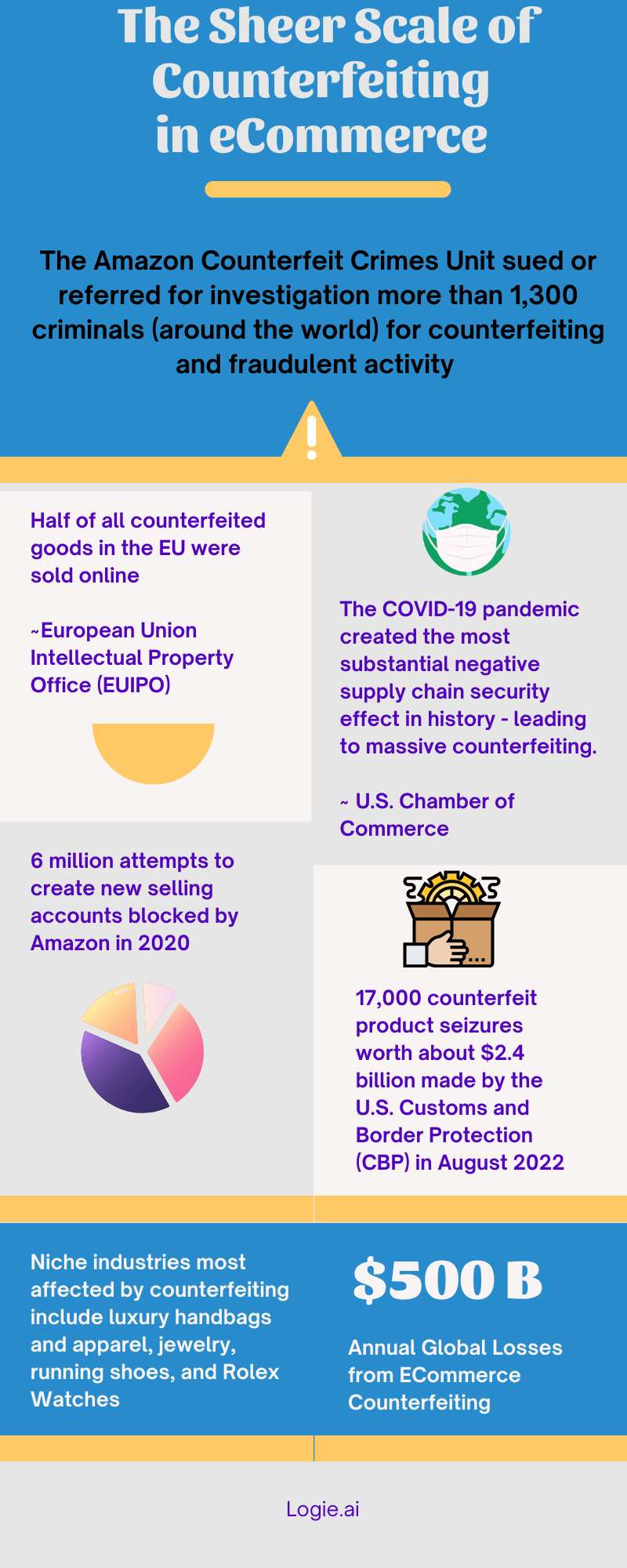 It's clear from these statistics that counterfeiting peaked during the pandemic and has been gradually climbing down since then. But this obviously does not mean that the industry is off the hook. All stakeholders must devise strategies to make sure that they (and their customers) do not fall prey to counterfeits or any sort of fraudulent eCommerce schemes.
2 Creators Share Their Experience With Fraudsters 
Altovise Pelzer, a seasoned digital creator, fell victim to a disloyal vendor.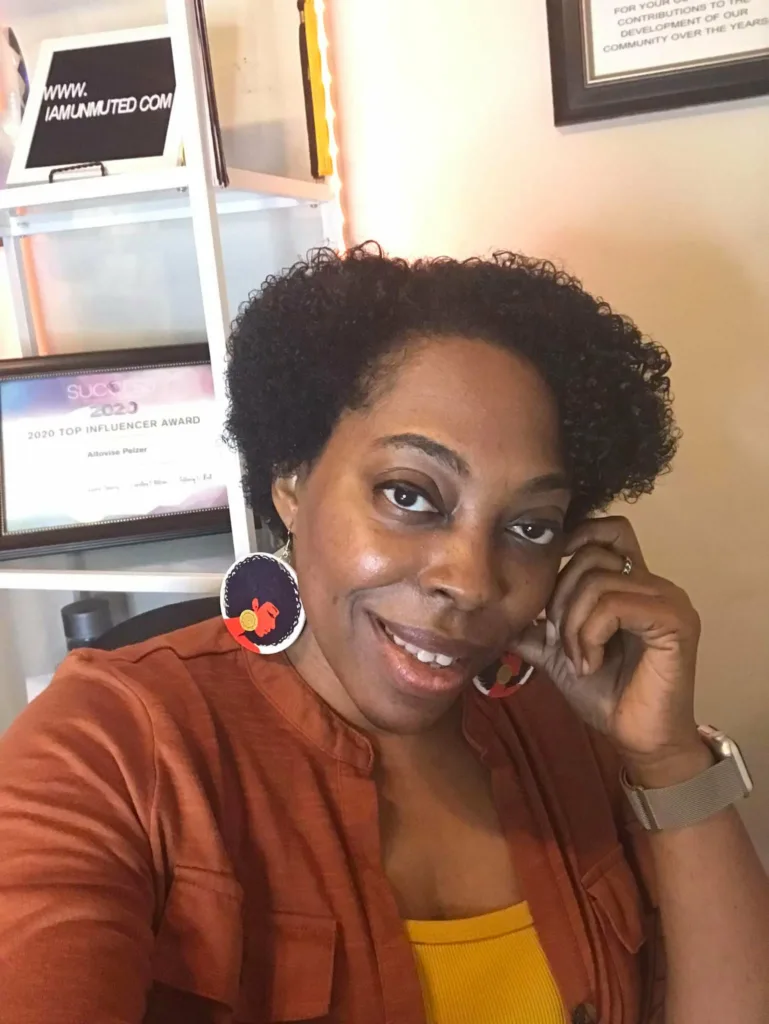 "I had a vendor reach out about a product. I agreed to do the video, but when it was time for them to pay me, they told me I needed to purchase a large quantity of another product. 😳 Even went so far as to show screenshots of other "people" they had made payments to after they made the big purchase. Nope, nope, and nope. I immediately explained that what they were doing was fraudulent practices. Blocked them and moved on," said Altovise.
Melody Johnson, an experienced digital creator crossed path with a bad actor whose product did not match the reviews:
"I was once going to accept a collaboration. Something seemed off, so I went to the reviews. The product did not match the reviews. It was a broom they wanted me to stream. The reviews were about birthday cards😒," Melody revealed.
Amazon's Latest Brand Protection Report
As one of the dominant players in the global eCommerce playground, Amazon is at the forefront of protecting brands and consumers. The company has repeatedly emphasized that trust, brand safety, and consumer protection are among its key goals. It's no wonder the online shopping giant has invested more than $1.2 billion dollars and employed over 15,000 personnel (including machine learning specialists and expert investigators) to achieve these very goals.
See the 2022 Brand Protection Report by Amazon
Some of the key tools the company has launched to help you and your customers stay on the safe side include:
Project Zero – this is cutting-edge technology that uses in-depth knowledge of intellectual property to effectively detect counterfeits. This is done using a cocktail of robust brand protection tools such as automated safeguards, product serialization, along with granting brands the unique ability to directly remove counterfeit listings from the Amazon store.
Transparency – Amazon uses a product serialization service with unique codes to identify individual items, preventing counterfeits from reaching customers. These codes can be scanned throughout the supply chain and by customers to confirm authenticity using the Amazon Shopping App or Transparency App.
IP accelerator – this intervention helps small businesses secure intellectual property rights by connecting them with a trusted network of IP law firms in 39 countries and 13 languages. It offers affordable trademark registration services and expedites access to Amazon's Brand Registry to enhance brand protection.
Other tools used by Amazon to protect brands include; the Brand Registry and Amazon Patent Evaluation Express (APEX). The company's Counterfeit Crimes Unit collaborates with selling partners and global law enforcement to disrupt counterfeiters and target bad actors through joint enforcement and seizures. Additionally, the company collaborates with industry authorities such as the European Federation of Pharmaceutical Industries Associations and the U.S. Chamber of Commerce to raise awareness and educate tens of millions on how to avoid counterfeits.
Interventions in Other Marketplaces
Outside of Amazon, most other leading marketplaces seem to adopt a lot of measures, from creating anti-counterfeiting policies to prohibiting third-party sellers from promoting fake products and even appointing fake shoppers to flag potential counterfeit products. But how effective these measures can be trusted to be is a whole different ball game. It's something that cannot be left to system-wide interventions.
What you can do to Guard Against eCommerce Fraud
It's easy to rest in the comfort that Amazon and other marketplaces are investing big-dollar and their top talent to stay on top of counterfeiting and malicious sellers. But you also need to take the initiative to make sure that your business or customers do not brush shoulders with any product that is not what was genuinely intended. Below are some of the intervention measures you can take:
Verify suppliers – thoroughly vet and research potential suppliers to ensure they are reputable and have a history of providing genuine products. Check for certifications, licenses, and references to ensure they are authentic.
Purchase from authorized distributors – buy directly from the manufacturer or authorized distributors to minimize the risk of accidentally purchasing counterfeit goods. And even so, make sure you only work with manufacturers who have a proven track record creating authentic products.
Implement strict quality control measures – regularly conduct quality checks on products received from suppliers to detect any inconsistencies or discrepancies in materials, packaging, or branding that may indicate counterfeiting.
Educate customers about counterfeit products – inform customers about the dangers and consequences of using counterfeit products, and provide them with information on how to identify genuine items.
Use product serialization – assign unique serial numbers or barcodes to each product, making it more difficult for counterfeiters to replicate and easier for you to track and authenticate items.
Register trademarks and copyrights – ensure that your brand's logos, designs, and intellectual property are legally protected by registering them as trademarks and copyrights. This will help you take legal action if necessary, against counterfeiters.
Monitor online marketplace listings – regularly monitor online marketplaces like eBay, Amazon, and Alibaba for any counterfeit products sold under your brand name. Report any suspicious listings to the respective platforms for removal.
Implement anti-counterfeiting technologies – utilize available security features such as holographic labels, tamper-evident packaging, or RFID tags to make it more difficult for counterfeiters to duplicate your products and easier for customers to identify genuine items.
Collaborate with customs and law enforcement – work closely with customs authorities and law enforcement agencies to share information about known counterfeiters, track shipments, and enforce anti-counterfeiting efforts. This collaboration will help identify and stop counterfeit products from entering the market.
Educate employees – if you have a team, train them on how to identify counterfeit products and what actions to take if they encounter them. Ensure they're aware of your company's anti-counterfeiting policies and strategies, as well as the consequences of not adhering to them.
Monitor and enforce legal action – if you discover instances of counterfeiting, pursue legal action against the counterfeiters to protect your brand and send a strong message that you will not tolerate such activities. This may include sending cease-and-desist letters, filing lawsuits, or working with law enforcement agencies.
Encourage customer feedback – invite customers to report any counterfeit products they encounter and provide them with an easy way to share this information with you, such as through a hotline, email address, or online form. This can help you identify potential counterfeiting issues more quickly.
Keep track of counterfeit trends – stay informed about the latest counterfeit tactics, technologies, and risks in your industry to ensure your anti-counterfeiting measures remain effective and up to date.
Join industry associations or coalitions – collaborate with other businesses and organizations in your industry to combat counterfeiting collectively, share best practices, and exchange information about new threats and countermeasure strategies. By working together, businesses can magnify their efforts against counterfeiters.
Be proactive on social media – monitor social media platforms for any signs of counterfeit products being sold under your brand name. Act quickly to report and remove suspicious content and educate users on how to identify genuine products.
These experiences show that at any given point, we may have to deal with fraud or encounter counterfeit products; it is just prudent that we devise ways to prevent us from falling victim to such malicious acts.