Meta is moving away from crypto projects, even after it had pitched NFTs (digital collectibles) as a part of its 'meta verse' plans.
What are NFTs?
NFT stands for non-fungible token, which is a type of digital asset that is unique and cannot be exchanged for another asset on a one-to-one basis like traditional currencies or cryptocurrencies. NFTs are based on blockchain technology to allow for digital ownership and verification of authenticity. They have become increasingly popular over the last few years as a way for artists and creators to monetize their digital creations.
Out after less than 1 year
Stephane Kasriel, the company's head of commerce and financial technologies, wrote on Twitter that the social media giant is retiring its NFT features on both Facebook and Instagram.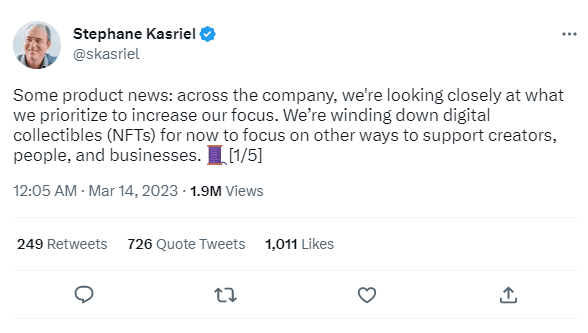 NFTs have had a particularly short lifetime at Meta given that the company only began testing the feature last May. The company had then expanded support to creators in 100 countries in July last year.
"We're winding down digital collectibles (NFTs) for now to focus on other ways to support creators, people, and businesses," Kasriel wrote on Twitter.
Moving towards Meta Pay?
It's likely that the company is planning to prioritize Meta Pay and similar products that are focused on ensuring that creators can earn money off its platforms. Still, this announcement adds to a flurry of 'peculiar' changes the company has made over the last year. It's only recently that they canceled Live Shopping on Facebook and then Instagram.