As a brand, you might be eligible to offer half-price samples for Logie creators.
This feature isn't available for all brands, and you must meet specific criteria to be eligible for this great benefit.
What's in it for you as a brand?
You get to work with Logie creators at no up-front cost
You don't need to ship a free sample to the creator.
The creator is paying to get their sample half the price, which means everybody wins: although the creator didn't get the sample for free, they didn't pay the total cost for it, and the brand didn't lose money (mostly) to have the piece delivered to the creator.
When a creator pays for a product, it proves they have a strong intent of using it and, therefore create powerful content for it.
You don't need to do anything manually; Logie fully automates the entire process!
This is an excellent opportunity to get a more extensive reach while saving money.
How do I upload single-use half-off codes?
Here's a great YouTube video that describes how to generate single-use coupons on Seller Central: https://youtu.be/9EH0qyo9REA.
We recommend that brands with many asins use the "Entire Catalog" option instead of a "Product Selection" for each product, which will take a lot of time to create and upload to Logie.
However, when creating such a code, ensure you protect your inventory by adding a 'maximum units per order' for each product on Seller Central (usually, 3-5 max is a good option for most products on Amazon).
Make sure the codes are 50% off.
Make sure they start today and the expiration date is 6 months from today, and mark these dates as you'll add them to Logie.
Download the single-use codes file and open it, you'll soon paste these codes into the Logie coupons page.
Uploading coupons to Logie
Head to your PRODUCTS page, and click the coupon icon next to any product.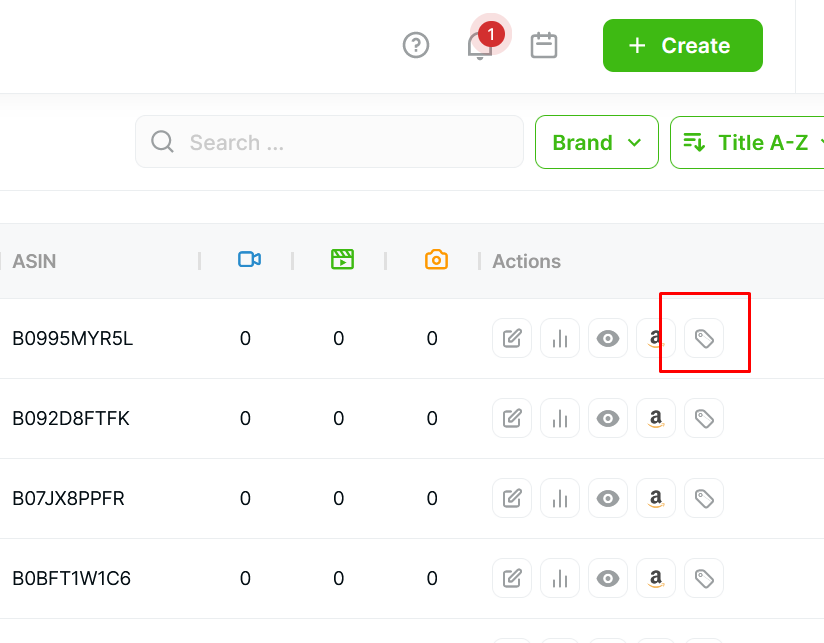 A popup will open up. Choose the Brand Promo Codes tab: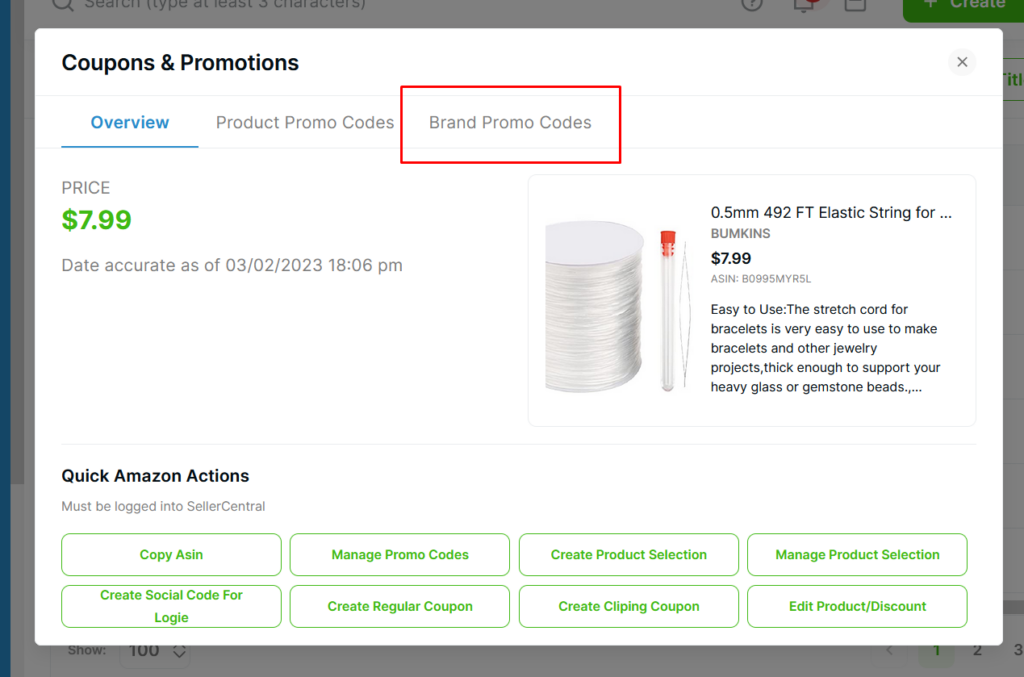 Then select "+ Brand Promo Code":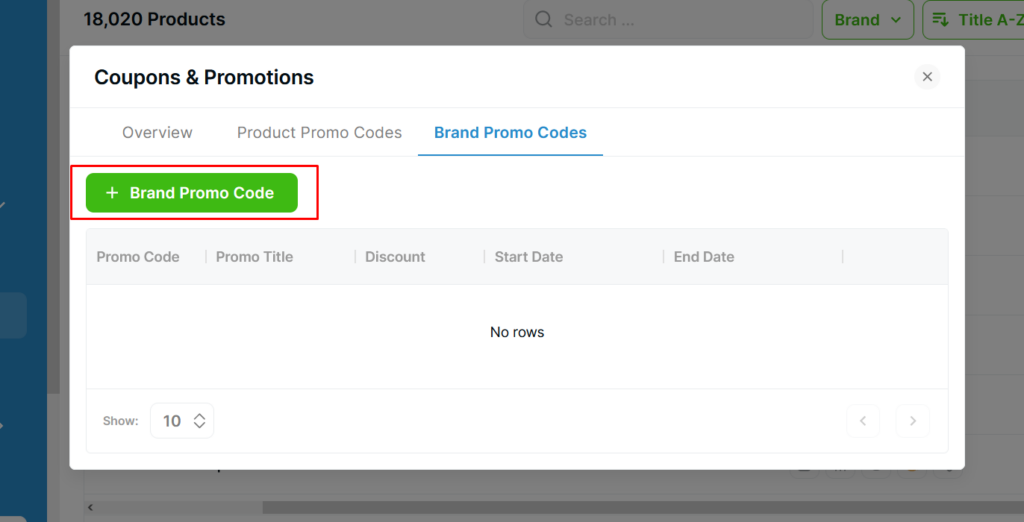 Make sure the right brand name is selected, if not, change it to the right brand. You can upload codes to any brand you're approved for from this panel: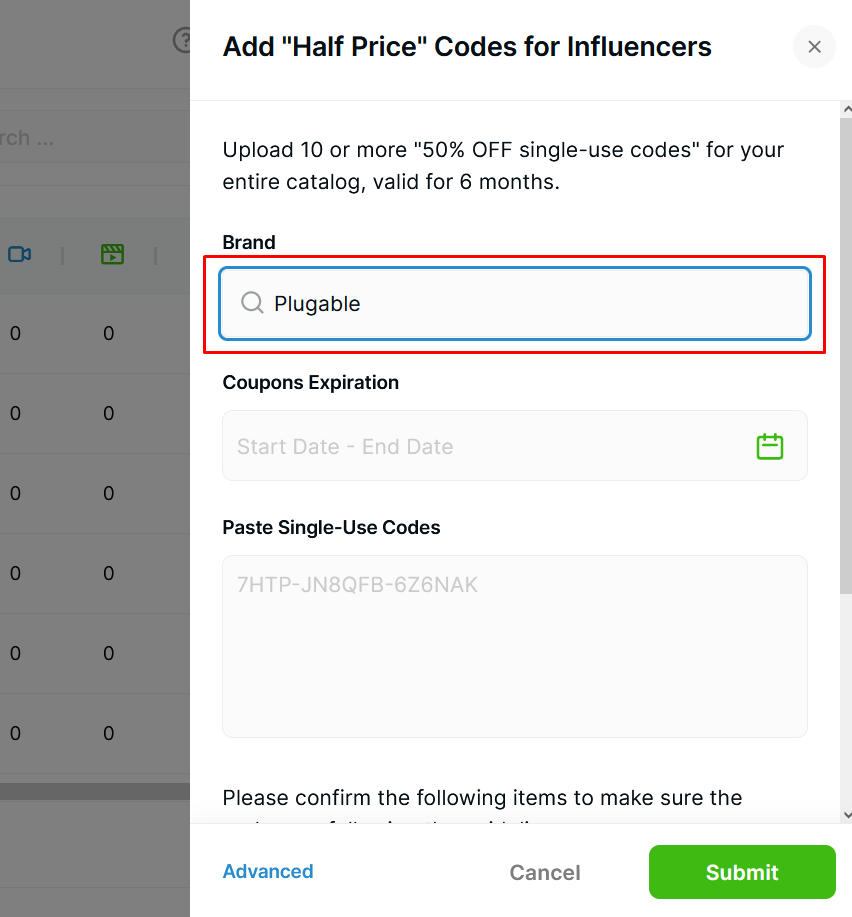 Now choose the start and end date. Double check you entered the correct START date. If you put a start date later than the actual start date, you're missing out as our system will not show the code right away, only when the data will arrive. First pick the start date and then select the end date to update the full period in the Coupon Expiration input box. Once you confirmed the dates are correct, hit Submit on the data picker popup: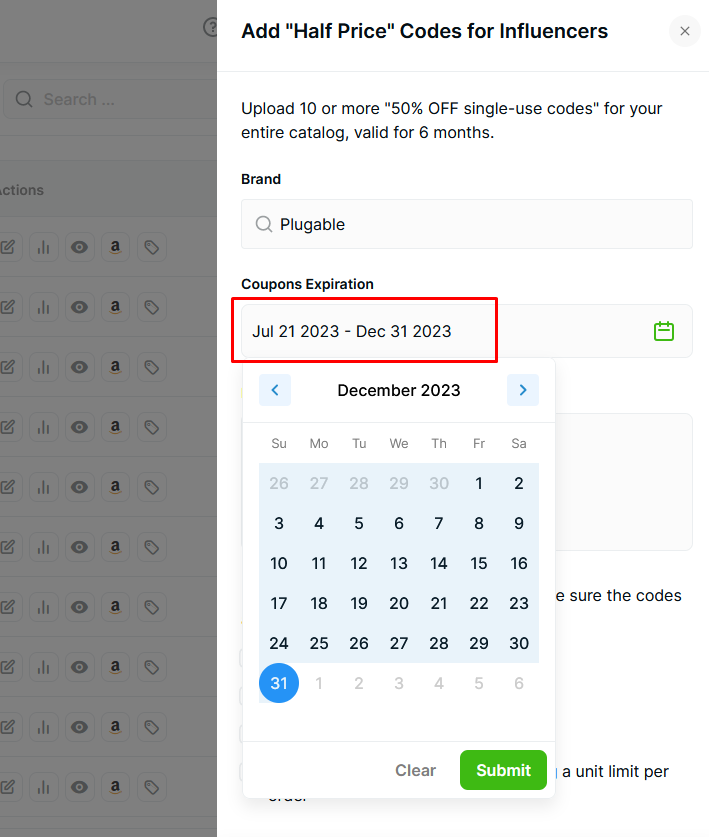 Now you can paste all the coupon codes your created earlier: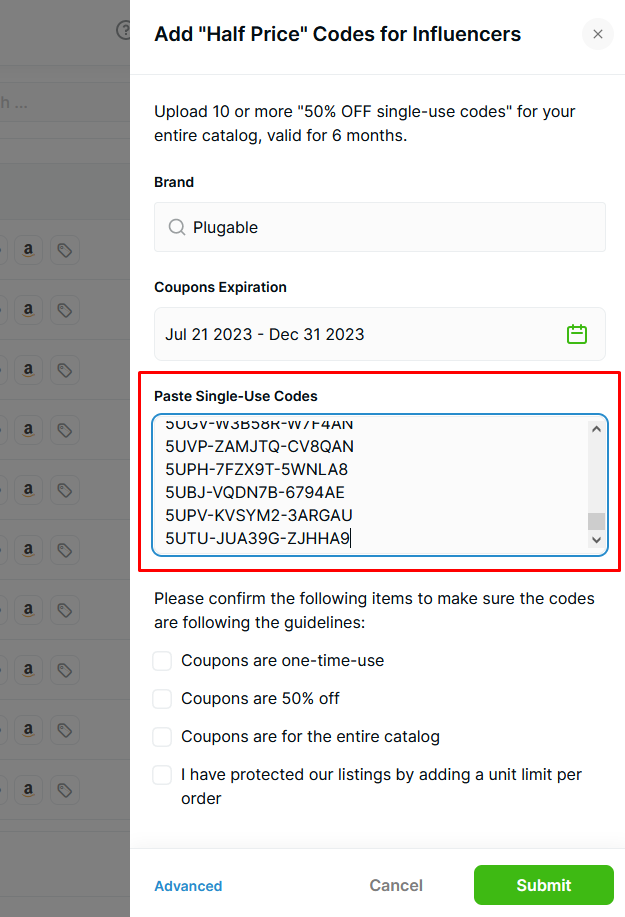 Tick all checkboxes to confirm you have followed all our suggestions:
Coupons are one-time-use.
This will make sure the code can't be used again by others.
Coupons are 50% off.
As a general rule, all coupons for Logie creators are ALWAYS half-price. We will decline any codes that aren't 50% and remove them from the system.
Coupons are for the entire catalog.
Instead of creating different codes for each product and managing all these codes on Seller Central, then downloading them and uploading them for each product on Logie, it is highly recommended to use Entire Catalog. Single-product codes are an advanced option that should only be used by brands with particular products that must have substantial limitations on units etc.
Protected your listings by adding a unit limit per order
A big issue reported by sellers in the past (never on Logie!) was that a code they created got compromised and used by someone to order a massive amount of their stock. To protect this, we can go to Seller Central and, under each asin, add a maximum order quantity limiting the number of units ordered in one transaction. While this protects our inventory, it still allows regular shoppers to place multiple orders if they need bigger quantities though a coupon code can only be used once.
You are done! Click submit and Logie creators will now have access to your half price codes!
If you have any questions, feel free to contact us at any time!