Thank you for joining our creator community. Logie equips you with tools to make your life as a content creator easier while also unlocking opportunities to earn more from your content effort.
You are welcome to use Logie to simplify content creation, track your content's performance, get paid for promoting cool products, and more.
This QuickStart guide will help you get started right away.
Simplify Content Creation With Logie
You can use Logie to create titles, descriptions, and thumbnails for your live shows, shoppable videos, and shoppable posts.

Check out this detailed guide for more on how to simplify and automate shoppable content creation.
Add Products you Want to Create Content On
You can add Amazon products that you want to create content on and promote to your Logie dashboard.
Option 1: Import or Search ASIN
Click on +Create then New Product from the top of your Logie dashboard.

Click on the Important option to directly enter or upload your ASIN(s) from a file. Alternatively, click on the 'Amazon' tab to directly search the Amazon database for the ASIN you want to add.
Option 2: Use the Browser Extension
You can use our chrome browser extension to add products to Logie by simply clicking on a button.

Download our browser extension here then install it.
You should now see a new 'Add to Logie' button on each product page on Amazon. Simply click on this button to add the product to your Logie dashboard.
Promote "Opportunities" Products on Logie
Our "Opportunities" tab is the favorite place for creators to visit. This is where you find cool products from our brands that you can promote (through live streams and other forms of shoppable content) and earn industry-leading commissions on each successful sale.
To find what products are available for you to promote, go to Manage> Products, and then click on the "Opportunities" tab.

How to sort through Logie 'opportunities' products
You can pinpoint the right product to promote based on your interests and focus niche. Filter through the expansive list by category, price, date when the product was added, commission level, and numerous other criteria.

How to promote Logie 'opportunities' products
Once you filter through the list and find a product you are interested in, click on the 'Promote' button to create content on this product. You can then share the shoppable live streams, videos, and posts you churn out on your favorite platforms to get people looking and buying.
Note: Some brands on our platform offer half-price coupons so you can order your sample unit at a subsidized price and create hands-on content. You may want to take advantage of this coupon if it is available for the product you are looking to promote. See the section below on how to grab your coupon for a sample unit.
Grab a Half-Price Coupon for a Sample Product
Want to promote a specific product from our "Opportunities" tab? Many of our partner brands offer half-price coupons exclusively to Logie creators so you can order your sample unit and create awesome content on it.
You can grab your half-price code by going to Manage>Products>Opportunities then clicking on the little icon next to the promote button.

Create a Simple Todo List
Want to create a short content calendar or schedule simple tasks right from within the Logie dashboard? It's easy.
Click on the To Do icon at the top of your Logie dashboard.

Enter task details in the dialog that appears.
Note: You can also do the same by going to +Create then New Todo Task
Upload Show Stats
Want to stay on top of how your shows are performing? You can do this by simply uploading a screenshot of the same and our AI will try to automatically parse and integrate the data to your Logie account.
Go to +Create then select the Upload New Stats option.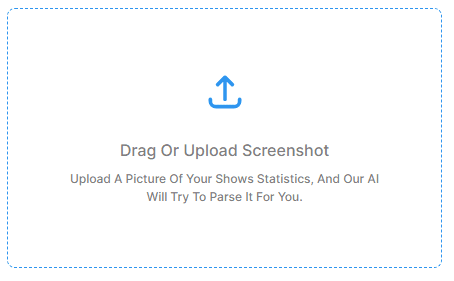 Manage Content, Products, Collections, Tasks, Media, and Commission statements.
Click on Manage from the menu bar on the left side of your screen.

Content – choose the Content option to edit, archive, duplicate, download, track performance or watch your content (shoppable videos, live streams, and shoppable posts).

Products – select the 'Products' option to browse through the list of products from our brands or promote the "Opportunities" products that Logie has specifically shortlisted. See the section below to see how you can use our filters to sort through the 'Opportunities' products.

Media – choose the 'Media' option to upload graphics that you want to use with your live shows, shoppable videos, or posts. You can upload different types of photos to make your content good, including your pic (talent pic), logos, backgrounds, and even specific show thumbnails that you may have created using other software such as Canva.

Commission Statements – choose the 'Statements" option to download your Logie earnings report.

Add Your Payment Details to Logie
From the top, right-most part of your Logie dashboard, click on your Profile Handle then select 'Edit Profile' from the drop down menu that appears.

From the profile menu options that pop up, scroll down to the Payment Settings option and enter your bank account details.

FAQs
How often are commissions paid out?
Logie harmonizes your data and pays commissions on the opportunities products that you have sold once every month.