Navigating and managing product listings can be quite a tedious task and so is keeping track of content created, for not only Logie and Amazon but also content shared to other social media platforms.
To fill this gap, Logie has created a wholesome platform with tools and features to allow creators to efficiently manage their product listings.
What features are available in the reporting tool?
The Logie Reporting Tool provides a multitude of features that allow you to monitor your content performance, analyze data, and make informed decisions. Some of the features you'll find in the reporting section include;
Products and Content
Under the report section, you will see 'Product' and 'Content', you can either click on products to navigate the products you have been promoting or click on content to see your creations. In the product section, there is a list of all the products you're selling or have sold.
Each product is accompanied by its unique Amazon Standard Identification Number (ASIN). You can use this ASIN to quickly search and locate specific products within the database.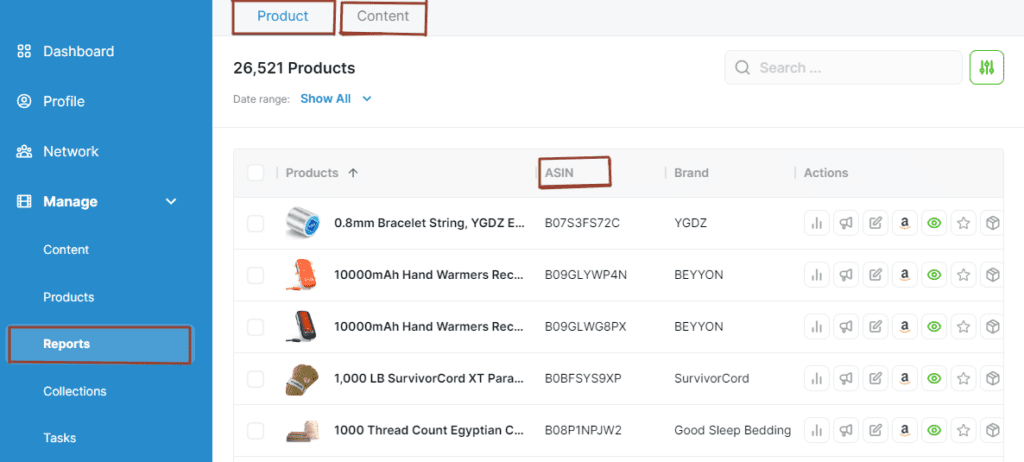 The content section provides you with a view of how your content is doing, what is performing better, this gives you an idea of what type of content to focus on. You also get an overview of the number of views versus the earning as shown below.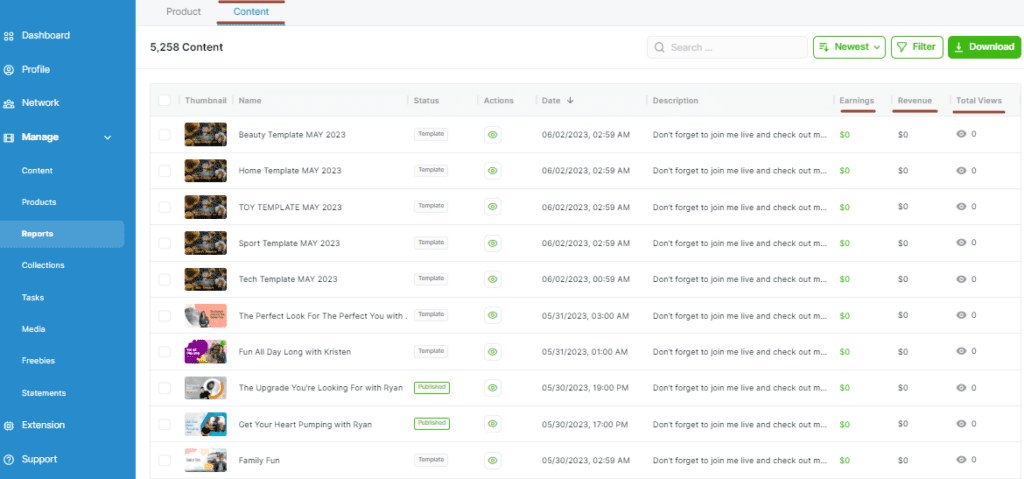 Brand
The 'Brand' feature allows you to sort and view products according to their respective brands. This will provide you with a view of how different products or similar products from different brands are performing.
To view which brands are performing the best, Logie has another section within the reporting tool that you can view by clicking the graph icon in the actions section.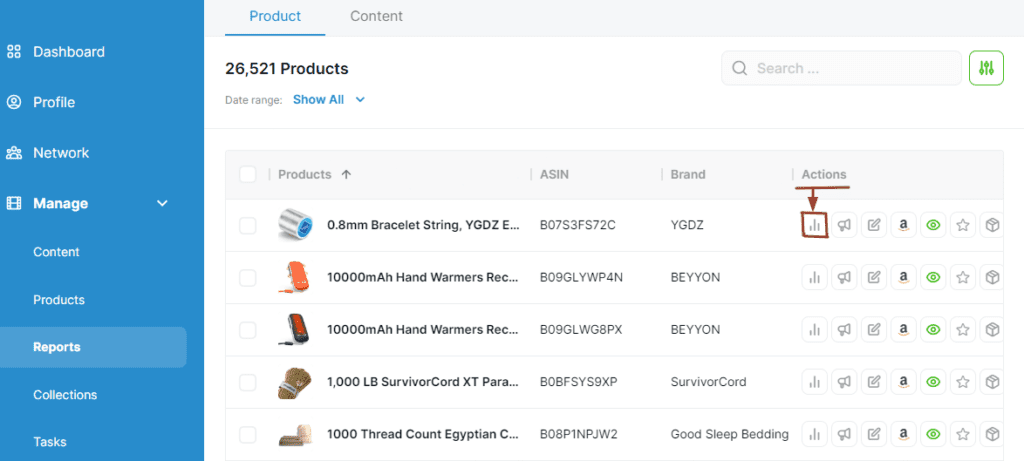 After clicking, scroll down to the bottom, there will be a graph that shows you which five brands are performing best as shown below. This module provides you with the number of units sold, revenue, and the content generated, you will also see the categories of products from which you are excelling.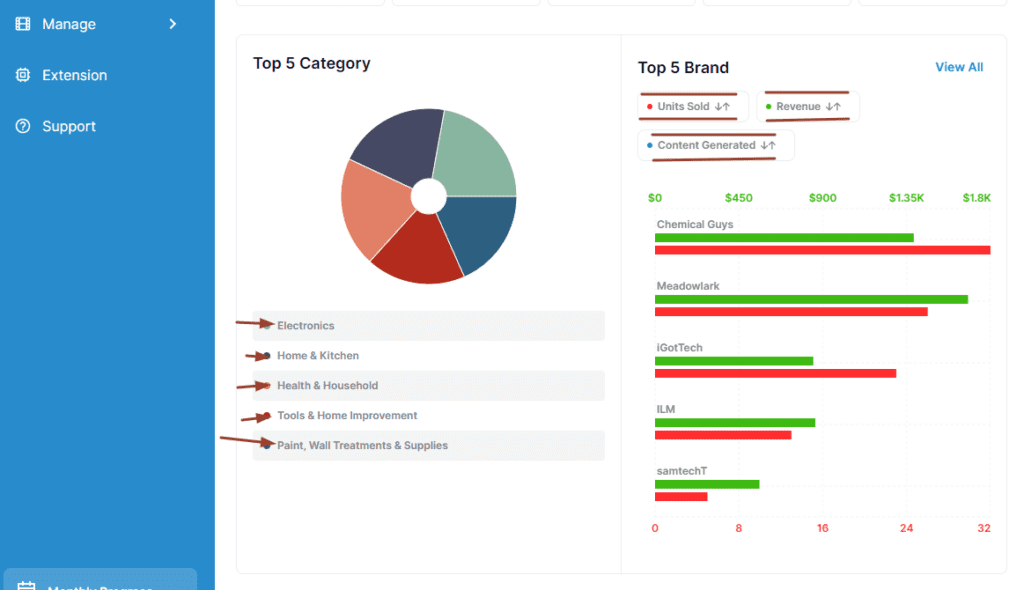 Actions
The actions button provides you with quick access to your sales graph, promote button, edit the Amazon product page, link content from other social media platforms, add as a favorite, and mark as having product on hand according to the products you are currently promoting.
Units Sold and Revenue
The 'Units Sold' and 'Revenue' sections give you a comprehensive overview of your sales performance. They display the quantity of each product sold and the total revenue generated from these sales, respectively.
Sorting
With the 'Sorting' feature, you can order your data according to different parameters such as ASIN, Brand, Units Sold, or Revenue. This allows for an easier and more efficient analysis of your data. You can decide to pin them on the right or left depending on what works for you.
Other modules available in the reporting tool include; Shoppable Video, price, promotion, revenue, returned revenue, amazon earning, returned Amazon earnings, commission, returned items, and when you created these products.
The best part about the reporting tool is that sales and performance can be viewed using a date range.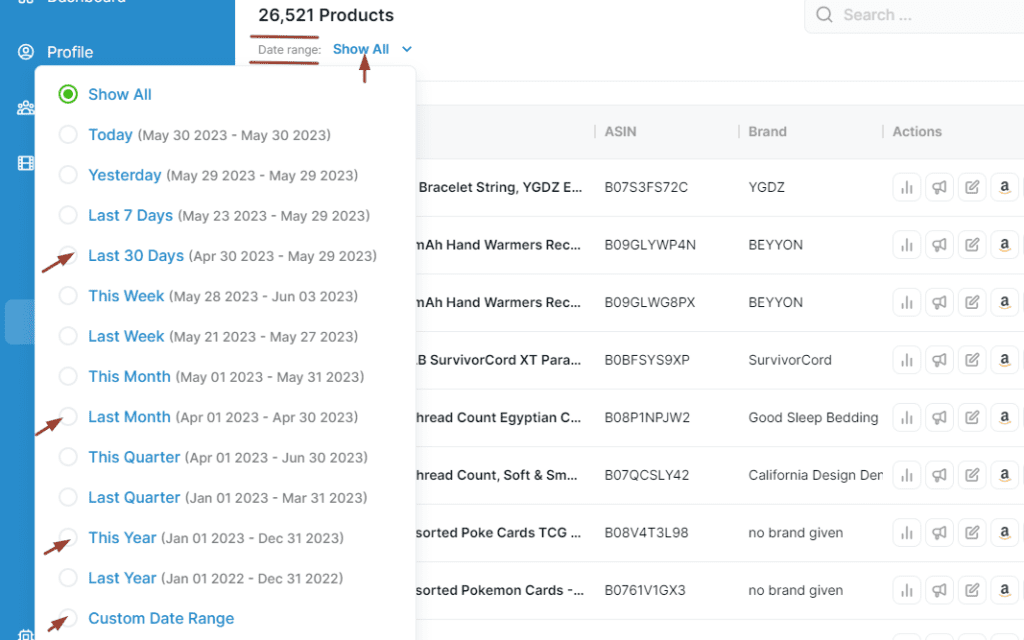 Navigating and managing product listings doesn't have to be a chore. By understanding how to add and remove products, filter on-hand products, select the products you want to see, and select a date range that works for you, it will be easier to manage your product listings and take your content creation to the next level.
For visual training, you can watch the video here.